Location
About North East
Northeastern India is the eastern most region of the country with states of Assam, Meghalaya, Tripura, Arunachal Pradesh, Mizoram, Manipur, and Nagaland constituting the region.
Tripura State
Tripura is primarily an agrarian state with more than half of the population dependent on agriculture and related activities. A variety of Horticultural / Plantation Crops like pineapple, potato, sugarcane, jackfruit, tea, rubber etc are produced in Tripura.

In 2009, the tertiary sector of the economy (service industries) dominated the gross domestic product of the state contributing 53.98% of the state's economy followed by primary sector (agriculture, forestry, mining) contributing 23.07% and secondary sector (industrial and manufacturing) contributing 22.95% to the state GDP. The industrial sector continues to remain under developed despite the vast potential.
Power Plant Location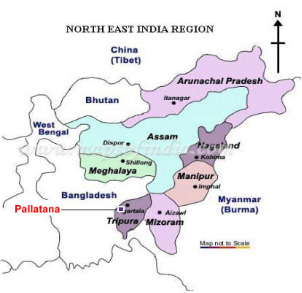 The power plant is located at Palatana in district Udaipur in the State of Tripura. The plant site is located about 12 kms from the sub-district head quarters of Udaipur and is about 60 kms from the capital city of Agartala. The site is located adjacent to the existing State Highway connecting to Udaipur, with onward connectivity to Agartala by NH-44.
Connectivity 
The power project is located on Udaipur-Kakraban road at about 12 km from district head quarters - Udaipur and at about 60 km from state capital -Agartala. The site is connected by a state highway to Udaipur, with onward connectivity to Agartala by NH-44.